Qualis University (QU) is our corporate learning program that provides leadership in support of people and processes through a single streamlined, continuous, and strategically aligned enterprise. The mission of QU is to create a Learn, Grow, Connect philosophy that fosters the development of hard and soft skills that employees need to be successful in support of personal and corporate goals, and fosters engagement and connection, thereby strengthening the organization's culture. Tenants of these features are used by Qualis to help our government customers build a robust workforce development program.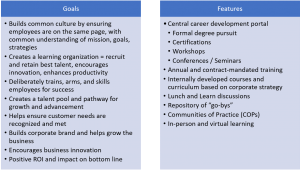 Qualis University provides provide training and skill development, supporting personal performance and helping Qualis stay best-in class in every aspect of operations.
Quals University helps people develop their individual talents, reach their personal potential, and achieve their career goals
Degree pursuit

Tuition reimbursement
College program list

Professional development/Conferences

Certifications
Workshops
Conferences/Seminars

Lunch and learns
Qualis University directly connects employees with colleagues, their discipline, and management within the company. Often the resources and answers people need come from those around them. By creating an environment of information exchange, mentorship, and networking, Qualis U helps employees plug into a network of people supporting their learning and development.
Leadership series/talks

Corporate Leadership
Guest speakers

Crestcom
Communities of Practice
Memberships/Conferences