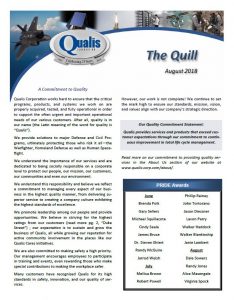 Browse the August edition of the Quill, which is on our Commitment to Quality.
NOTE: This newsletter is intended for Qualis employees and should not be printed, edited or distributed for unintended usage.
As you read, you will also note Qualis has increased your social footprint. Remember to follow us on these applications:
Twitter                             @qualis_jobs
LinkedIn                           Qualis Corporation
Facebook (new)             Qualis Corporation or @qualiscorp
Instagram (new)           @qualiscorp
YouTube (new)              Qualis Corporation
Note: If you are on LinkedIn, request to join our Qualis Corporation Employees and Alumni Group to stay informed about everything going on at Qualis (including events, new job postings, news and updates). Find us on LinkedIn at https://www.linkedin.com/groups/8459591.
Need 5 reasons for why you should follow Qualis Corporation on Social Media?
Find out the Latest Job Postings.
Learn more about Our Services.
Find out the Latest News and Updates.
Read and find out how to get involved in Our Community Involvement.
Stay Connected with Coworkers.
Connect and check us out!